Quantum Information, Computation and Communication
Research Sketch: Quantum Information, Computation and Communication
By Brasenose Physics Tutor, Professor Jonathan Jones
The world revealed to us by quantum mechanics is famously weird: objects can behave as both particles and waves, exploring many different possibilities at the same time, but jumping apparently randomly to a single state when they are observed. Einstein was so disturbed by this behaviour that he devoted much of his career to futile attempts to disprove the theory.
A later generation, epitomised by Richard Feynman, adopted a more practical approach. Retreating behind the dictum that "nobody understands quantum mechanics" they instead concentrated on applying the theory to the physical world. The triumphs of modern physical science and technology, from the Higgs boson to the iPad, are a testament to the success of such pragmatism, but ultimately this approach still feels unsatisfactory.
Quantum information theory arises from a new and radically different approach: taking quantum mechanics at its word. If quantum mechanics is weird, which it certainly is, and yet a correct description of our world, which current experiments suggest it to be, then we should embrace this quantum weirdness and see where it leads us. A quantum object can be in many different states at once, and if we choose to interpret these states as different numerical values then we have a quantum memory which can store many different numbers at the same time. A quantum computer can then manipulate all these numbers simultaneously, performing many different calculations with a single device. With a suitable quantum system it should be possible to perform computations so complex that they could not be carried out on any conceivable classical system, even if we converted the whole world into a single giant computer.
Despite the air of science fiction, quantum computers are in fact real. We demonstrated experimental quantum computation for the first time in 1998 using techniques adapted from nuclear magnetic resonance (NMR), a technique better known in chemistry than in physics, and since then many other groups have performed simple quantum computations using a wide range of different physical systems. Our NMR approach is ideal for performing these simple demonstrations, but sadly is widely agreed to be just as unsuitable for building real quantum computers as Babbage's brass cog wheels were for classical devices. As yet none of the alternative approaches are entirely suitable, but progress has been rapid and it seems possible that the first real quantum computers will be constructed within ten years.
Readers who are still suspicious of quantum mechanics might take some comfort in the suggestion that quantum information theory could instead provide the best route to disproving quantum mechanics. Some ideas such as counterfactual computation, in which a result can be found without ever turning the computer on, are so peculiar as to almost demand attempts at disproof. To date quantum mechanics has survived every test, with each attempt to break quantum theory serving only to strengthen it. At some point these attacks will surely succeed, but this is perhaps a mixed blessing: any successor theory to quantum mechanics is likely to be stranger still.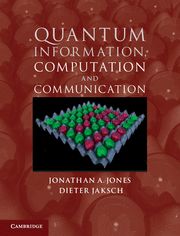 Jonathan Jones's new textbook Quantum Information, Computation and Communication, written with Dieter Jaksch from Keble College, has just been published. Professor Jones oversees all physics teaching in Brasenose, and personally teaches topics including mechanics, relativity, optics, quantum mechanics, atomic physics, and quantum information theory, as well as courses in mathematics for physicists. His research publications can be accessed through his website.
Read more about Physics at Brasenose.