Summer Eights Rowing Report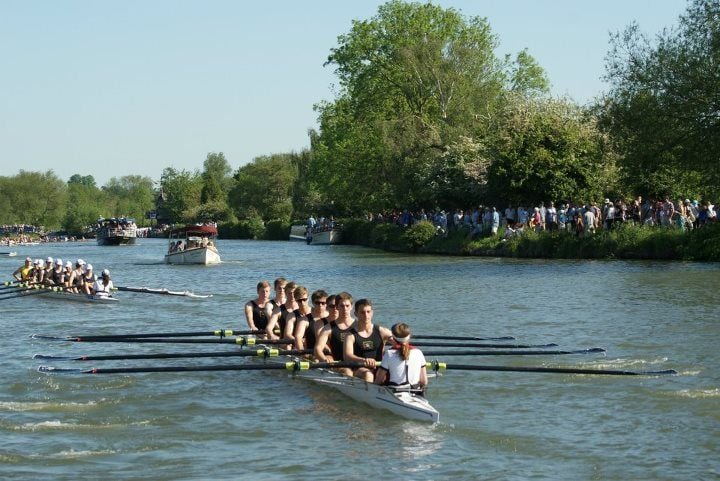 Summer Eights Rowing Report
By Amrit Gosal (2nd Year Medic)
Brasenose enjoyed a great four days of rowing in the glorious sunshine that arrived in Oxford for "Eights Week". The customary idyllic summer weather that so often characterizes Trinity Term rowing had instead been replaced by the wettest April for years - prompting river-closures for the majority of the build up to Eights. Brasenose College Boat Club (known as BNCBC) therefore took to the gym and we rediscovered our love of "erging" - aiming to make up for lost water time by maximizing our fitness and strength. With only around a week to go, the Isis (a nickname for the section of the Thames flowing through Oxford) opened and we were allowed out on the water to make the final preparations before Eights.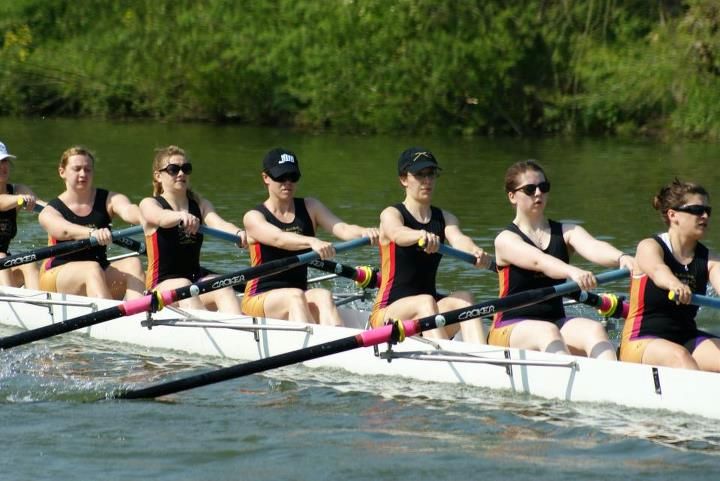 The men's First VIII, called the Childe of Hale, achieved two impressive "bumps". The women's First VIII knew it would be a huge task to repeat their "Torpids" success and this indeed proved to be the case, as despite their strong fighting spirit, the inexperience of the crew took its toll. The men's Second VIII rapidly progressed, adding three bumps to their name. No doubt many members of this strong crew will be aiming to earn Childe of Hale colours in the coming year. The women's Second VIII probably experienced the most up-and-down week, with bumps galore (both achieved and received) as well as a crash from a following crew resulting in BNC's cox narrowly escaping serious injury.
The Men's Third boat, a comp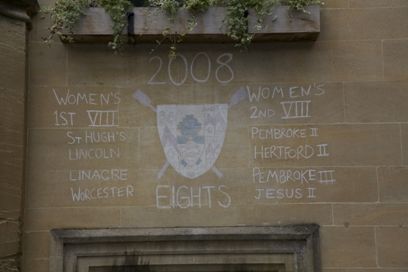 osite crew of many boat club members past, present, (and female, too!) earned their second set of "blades" (meaning they bumped on all four days of the competition) in a year. The achievements of this most mysterious and changeable set of rowers will soon be chalked on to a College wall (similar to pictured, left), as a testament to the value of raw speed and little practice...
Overall, the boat club came 9th out of 34 (by the number of bumps), with the men's squad joint 1st.
We finished the week with our Eights Dinner - a splendid occasion which provided us all with a true celebration of the year's rowing. Looking ahead to the coming year, we will soon welcome a fresh committee led by the current men's vice-captain and women's captain as co-presidents. We hope to continue the enthusiasm and determination of all our crews, welcome many new members, and herald another brilliant year for BNCBC.
Rowing is a popular, but by no means compulsory, pastime for Oxford students of all backgrounds.