Ascension Day Festivities 2012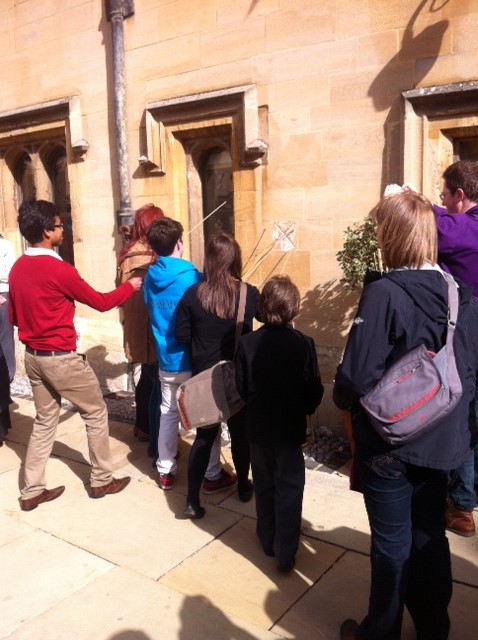 Ascension Day, which fell on the 17th May this year, was marked at Brasenose College with two old traditions.
The Beating of the Bounds ceremony passed through Brasenose during the morning of Ascension Day. The custom, observed in a few parishes across England and Wales has probably been in existence for over a millennium, and originated in the need for church officials to perambulate the boundaries of their parish. The boundaries of the parishes of the churches of St. Michael at the Northgate and St. Mary the Virgin (also known as the 'University Church') pass through Brasenose College and on Ascension Day groups from both parishes visit and mark the boundary stones located on certain walls of college buildings by marking them with the year in chalk and beating them with willow sticks!
Secondly, at lunch time on Ascension Day each year, Brasenose College members are permitted to enter Lincoln College via a tiny connecting door between the two colleges, which leads from Brasenose's Old Quad directly into the Lincoln Coll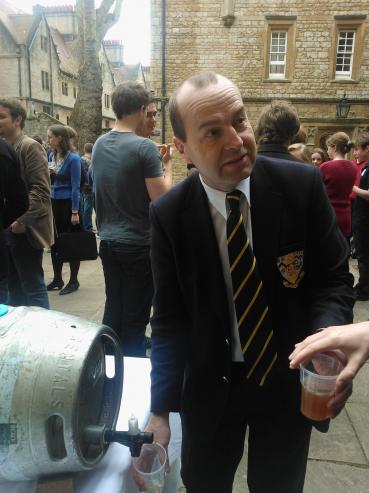 ege kitchens. The door is opened for five minutes and it is the only time during the year that this door is unlocked. Brasenose members are served an ale in Lincoln College, which is traditionally flavoured with ground ivy, handpicked by the Lincoln College butler in local woods, to discourage Brasenose members from taking liberties with the kind hospitality by requesting more than one drink. Opinions on the origin of this tradition vary, but the two most popular explanations are that, centuries ago, either a Brasenose member was pursued by a mob from the town and murdered because Lincoln students refused to open their gates to him, or that a Lincoln member killed a Brasenose man in a duel. Either way, Lincoln College's penitence is gratefully received by Brasenose members. As usual, the festivities were well attended and, this year, the sojourn to Lincoln College gave Brasenose students the opportunity to view the recently completed building work from a different angle.
The photos show the Beating of the Bounds ceremony and our Head Porter, Andrew Talbot, serving Ivy Ale at Lincoln College.