Teach First Graduate Returns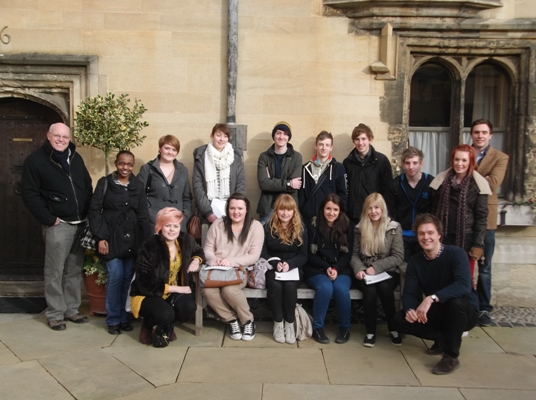 Last term, former English student Chris Kemp returned to Brasenose as a teacher, bringing with him a group of Year 11 students from his school.
Following an undergraduate degree and Masters in English, Chris left Brasenose in 2010 and joined Teach First, an organisation that places graduates as teachers in underperforming schools throughout England. He is currently completing his Newly Qualified Teacher year as an English teacher in Wombwell High School, a comprehensive school in an ex-mining community four miles from Barnsley, South Yorkshire.
The group participated in sessions delivered by Joe Organ (Schools Officer) and Sos Eltis (English Fellow), visited the Natural History and Pitt Rivers museums, had a tour of Brasenose, college lunch, a Q+A with current students and free time to explore Oxford. Chris commented: "Joe Organ and Sos Eltis, our hosts, gave us exactly what we needed: an unpretentious, enthusiastic and realistic introduction to Oxford life. As I had anticipated, the shrunken heads in the Pitt Rivers went down a storm, but having the chance to meet staff and students was a rare and valuable experience for my students; it was perhaps the first time that they had seriously talked about going to Oxford."
Brasenose College supports Teach First, and this year is offering up to five £1000 bursaries for Brasenose Students that join the programme in summer 2012. A number of Brasenose students have gone on to Teach First already, and the College hopes to establish and maintain schools liaison links with other graduates who are completing or have completed this programme.

Read more about Brasenose's Schools Liaison activities.