Dr Ed Bispham appears on BBC TV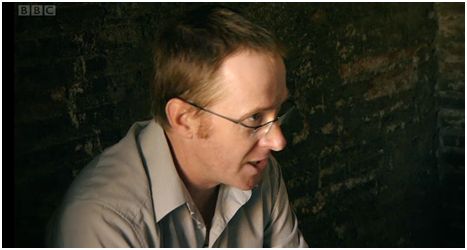 Dr Ed Bispham, Fellow in Ancient History, appeared in the second episode of Meeting the Romans on BBC TV on the 24th April.
The programme, one of a series presented by Professor Mary Beard, focuses on the forgotten lives of the ordinary Romans, rather than the Emperors, Generals, Colosseum and Imperial Palaces of the ancient empire. The second episode, entitled Streetlife, takes a vivid look at the slums of ancient Rome. Dr Bispham accompanies Mary Beard into the remains of a brick insula, described as the Roman equivalent of an inner city high-rise apartment block, right in the centre of Rome. They discuss what life would have been like for ordinary Romans in the apartment blocks, ranging from the relatively affluent inhabitants of the spacious first floor, to the squalid upper floors.
Dr Bispham teaches in Ancient History (Greek and Roman) and his research interests lie in the history and archaeology of Italy, where he ran an excavation project for a decade. He has written articles on Roman law, colonization, and inscriptions; he is author of From Asculum to Actium: The Municipalization of Italy from the Social War to Augustus and is the editor of Roman Europe among other books.
Meeting the Romans Episode Two can be viewed on here until early May. Dr Bispham's section appears just over nine minutes into the programme.
Read more about studying Classics, Classical Archaeology and Ancient History and Ancient and Modern History at Brasenose College.