Page 8 of 11
Working in the library
Box arrangement for leaving work in the library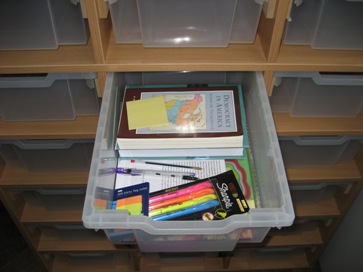 Papers/books may only be left overnight if they are placed in one of the new library boxes available for rental at a cost of £3 per term (0th-9th week). There are currently 30 boxes which will be rented to those who are interested on a first come first served basis. The boxes will be named and stored in specific locations. During the day users can take their box to the desk they are working at. All items (books, pens, folders, papers) should be placed in the box when leaving the library for more than one hour. Boxes are to be returned to the storage areas for the night and those left on desks will be removed to the storage areas as part of the morning clearing up process.   Clearly the size of the box limits the amount of material that can be kept in the library by each box holder; boxes must fit back in the storage area when full and overspill items will be removed.  Those who have not rented a box will no longer be permitted to leave piles of books or papers overnight.
Yellow slips during the day
These are only for use during the day. A yellow slip must be left on piles of work left unattended (however briefly) during the day. Unidentified books and other material will be re-shelved/removed during the main clear-up sessions of the day around 8 - 10 am & 4 - 5 pm.
Library rules and regulations
All users must read and observe the Library Protocol.
Computing facilties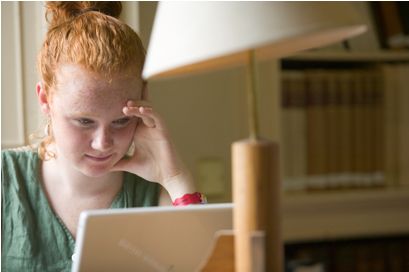 The Libraries are equipped with wireless internet access.  Ethernet ports are also available at all of the desks in the Main library and there are several Ethernet ports in the Stallybrass. The Main, Hulme, and Stallybrass libraries each have a computers with internet access. In the Main Library one computer is designated as a catalogue searches only machine. 
The computer terminals in the Main Library and Stallybrass Library are linked to a photocopier/ scanner/printer. Printing is charged to batels at a cost of 2p per page for black and white and 6p per page for colour. 
Photocopying
There is a photocopier/scanner/printer in the Stallybrass Library and another through the door at the end of the Hulme Library. Photocopying is currently free of charge (for a trial period) and items may also be scanned to email or to a scanned to a folder which appears on your desktop when you login to your profile. Scanning is free of charge.
Recycling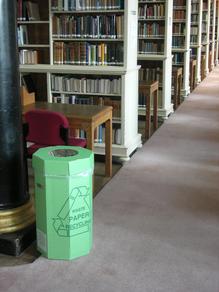 The College is committed to recycling and the Library is no exception. Whilst we provide countless general waste bins in the library, you are encouraged to place all suitable paper in one of the green recycling bins in the Library. On each bin there is a list of material types that are acceptable for recycling so please check before use. Please do not contaminate the recycling with rogue items.