Page 7 of 9
Choir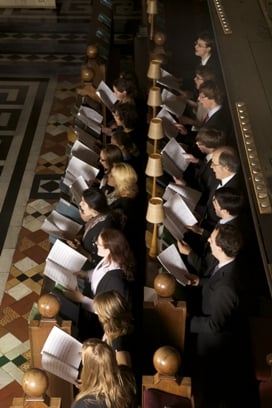 Brasenose College Choir comprises undergraduates, graduates, and senior members, largely from Brasenose, in addition to a modest intake from other colleges. The choir prides itself on its friendly atmosphere which fosters musical excellence within a sociable environment. In keeping with this philosophy, no auditions are required and the choir is entirely voluntary, apart from the duties undertaken by the choral scholars.  A number of choral awards are offered to members of Brasenose, the auditions for which take place at the beginning of the academic year.
Chief among the choir's duties is singing Evensong every Sunday, but it also sings for various special services and events, including two Carol Services, Roman Catholic Masses, the annual joint service with Lincoln College, and College occasions including feasts. The choir rehearses every Thursday, and every year workshops, with singing teachers or professional church musicians, are organised.
Brasenose recognises the importance of the college choir through the appointment of up to eight choral scholars each year. Selected through audition, candidates are taken from amongst those students already in residence, and here are no set numbers of scholarships for each part. They are expected to play a central role in the choir, and are also be encouraged to take an interest in the wider musical life of the College.  Choral scholars receive an annual honorarium of £150.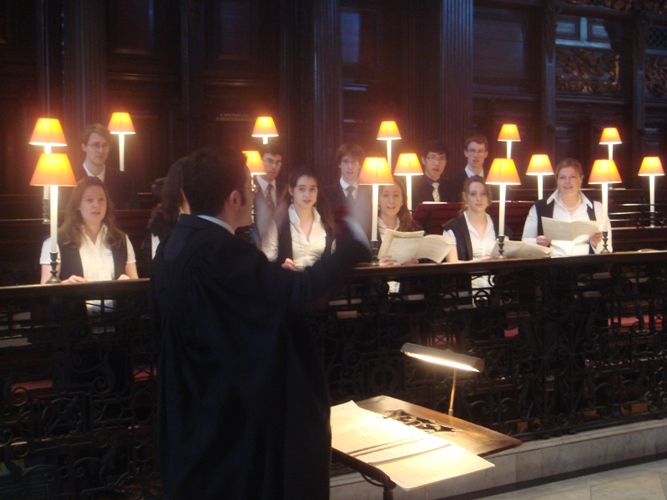 Cathedral visits have become a regular feature of the choir's activities. The choir sang in Southwark Cathedral in February 2011, in St Paul's Cathedral in March 2011, and in Winchester Cathedral in June 2011. The College also supports foreign tours. Following a successful tour of Rome in the summer of 2004, which included singing Mass in St Peter's Basilica, the Bishop of Santa Maria Maggiore invited the choir to participate in the Basilica's annual festivites of Santa Maria della Neve. The choir went to Paris in the summer of 2006; its members joined forces with Pembroke College, Oxford in June 2009 for a tour of Lombardia, Italy; and the Brasenose choir went to Rome in June 2010. The choir sang a memorial service in St George's Church, Ypres on 10 April 2011. Their next trip was to Tewkesbury Abbey on the 7th March 2012.
Anyone interested in joining the Chapel Choir should contact Jonathan Newell, the Director of College Music
Current and recent music lists are displayed below:
Trinity_Term_Chapel_Music_list_2013
Hilary Term Chapel_Music_list_2013
Michaelmas_Term Chapel_Music_list_2012
Trinity_Term_Chapel Music_List_2012
Hilary Term Chapel 2012 Music List
Michaelmas_Term_Chapel 2011_Music_List

Trinity Term 2010 Chapel Music List

Hilary Term 2010 Chapel Music List

Trinity Term 2009 Chapel Music List